About Us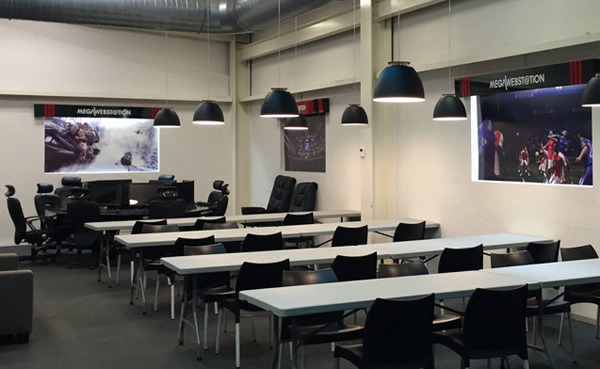 Who We Are
AuckLAN is an Auckland-based, community-driven BYOPC LAN project tailored around it's attendees. We aim to provide a quality network in a comfortable environment with a nice balance between competitive and social gaming for all.
Starting out as 2 small Studio-style LANs AuckLAN was quickly popular with it's attendees and we decided to upscale through regular events to take it as far as it can go. We have steadily expanded our sponsors, crew and equipment as we have grown and we are constantly refining and improving how we plan and execute our events to ensure each event is better than the last.
We are entirely non-profit and all our crew are volunteers who do it for the love of it. We are passionate about gaming and LANs and want to share our passion with everyone!
See Our Previous Events

Take at a look through some of our epic past events and have a look at the awesome prizes and great tournaments AuckLAN's are famous for!





Gratuities

We would greatly appreciate any donations to AuckLAN. We are a not-for-profit organisation dedicated to running gaming events. All donations will be used to improve the equipment we provision at our events!







We are a dedicated team, passionate about creating awesome gaming LANs.
Our Founders
 
 
 Alex Grant


Manager/Co-Founder




TheInfamousHOSS


0274253346 |

This email address is being protected from spambots. You need JavaScript enabled to view it.

| Steam ID



Alex "TheInfamousHOSS" Grant (Hoss for short) comes from a Gaming & Technical background. Hoss first appeared on the gaming scene in the early days of Day of Defeat: Source (DOD:S for short) around 2005, playing it casually on-and-off with CounterStrike Source for about a year before getting the "bug" for clan play. Hoss quickly became involved in the clan scene of Day of Defeat Source in NZ and Australia, building clan teams, competing in competitions including reaching finals on multiple occasions and holding a NZ DOD:S LAN in 2009. Gradually the focus became less specific to DOD:S and the focus broadened to FPS games in general. Later in 2009, Hoss co-created New Zealand Gaming Network (nzgn.co.nz), a community forum and voice server offered free to New Zealanders and a dedicated follwing grew. As the technical side took over on the career side too, an interest in LANs blossomed into a fully fledged addiction making the path to running AuckLAN an inveitability. Alex has since become MCITP and CompTIA A+ certified and has extensive experience in Home and small-to-medium business IT support. Alex recently incorporated his own IT support company, Easy PC (Auckland) Ltd.

Our Dedicated Team
Tyson Moore


Roadkill




This email address is being protected from spambots. You need JavaScript enabled to view it.

| Steam ID
Ever since I was a young lad I always had an interest in games and computers. Starting out on a Sega sc-3000 (yes showing my age!). Years of Quake was great! Half-Life soon followed. Then I was off to my first LAN in about May 2000 in Birkenhead. After that came Gaggle LANs, where I also discovered one of my favourite Half-Life mods, Natural Selection (Half-Life Team Fortress was another one of my favourites), and Battlefield 1942. Then A3, Equinox and A4. xLAN was the next LAN, but after the first one in 2004 I lost track of the whole LAN scene. Picking it up again in 2009, I went to 2 or 3 until it became less about fun and more about competition, and then it disappeared into the void of NZ LAN history. Auckmageddon 5, 6 and 7 came and went; Hoss got me coming to AuckLAN. These days I play Team Fortress 2 and Diablo III. With AuckLAN outgrowing the Browns Bay facilities, and Hoss and Rurd2di needing to take on extra crew, when asked I was happy to jump at the chance. I'm an avid supporter of Beer Pong. I won the first Beer Pong competition I entered, and am looking forward to running many more so others can experience the fun and competitiveness of one of the greatest games in the world. I've done A+/Network+ and MCP (in Networking). I play around with servers and virtualisation.
Dave Haworth


xIAMDAVEx-Nz


Steam ID

I have been gaming since around 1990 starting with my Dads Commodore 64. Then our first PC with DOS games in mid 90s with DOOM, Quake, Wolfenstein, Duke Nuken 3D etc.
Then in late 90s bought the PS1 and also a new PC where I played my first online games via MSN Gaming Zone such as AOE2 and Motocross Madness 2. As well as my favourite offline game Half-Life
My love for online gaming really sparked off when Battlefield 1942 came out. Been a big BF fan since.
With another new grunty PC preparing for valve's The Orange Box, waiting forever for Half-Life 2, and introduced me to one of my favourite MP games Team Fortress 2 and Counter-Strike Source.
Having hosted a few local LAN partys, My first one we had around 60 Teens turn up with over 30 Xbox 360s. With full lobbys of Cod and Halo it was hella fun. Recently joined the AuckLAN crew as their photographer/videographer as my professional passion is video production.

We want to hear from you!
We are always looking for new volunteers to join the AuckLAN team, please apply by sending Alex an email with some information following. Name, age and gaming alias, preferred games/platforms, what you could bring to the team, what kind of role you see yourself fitting into and finally what your motivation is to commit to the AuckLAN team.
This email address is being protected from spambots. You need JavaScript enabled to view it.